Lexis Thanksgiving Day Camp 2022
帰国子女 英語学校・子ども英会話の Thanksgiving Adventure
Thank you everyone who attended Lexis's 2022 Thanksgiving adventure!

We came together and learned about the food, family and history of Thanksgiving.

We spoke about family and thankfulness, we talked about the foods that make families
happy, and we went in depth on the months that surround the Thanksgiving holiday.

After that we learned about traditional foods eaten in the USA and Canada during the
fall season.

We then practiced writing about Thanksgiving and spoke further about the traditions in
the USA.

After a video containing history of Native Americans and European settlers, we enjoyed
cranberry sweets and did challenges in speaking and writing in English.

Afterwards, we broke up into reading and study groups where students were challenged
to read stories from the USA and Canada.

Our first craft time led to students designing their very own turkey, in honor of all of the
turkeys at thanksgiving time. After designing them, they introduced them, spoke about
their unique skills and then explained their turkeys' personality!

Lunch was a magnificent feast! We enjoyed fresh salad, mashed potatoes, cranberries,
fried chicken, turkey, dinner rolls, and saved room for dessert... pumpkin pie.

To the shock of us teachers, a majority of the students did not love the taste of pumpkin
pie. We discussed the difference in expectations. Beans, especially adzuki are often
considered a sweet in Japan, while pumpkin is more of a savory food. American food flips
that idea on its head as pumpkin pie is a tasty sweet while beans are a delicious savory food.

After enjoying a nice meal and a thanksgiving movie classic, the students came together for
their final craft project. Creating their own autumn wreath. With the help of a lot of creativity,
some hot glue, and a lot of patience from the students, everyone walked away with a totally
unique thanksgiving wreath.

All in all we had a lot of fun, made a lot of memories, and enjoyed quite the meal. Thank you
to all the students, staff and teachers who attended, and we look forward to seeing you again!


アメリカのthanksgivingというイベントをご存知ですか??英語の勉強をしながら、アメリカの文化を体験しましょう
(ランチ付き)


Lexis will be hosting a thanksgiving camp for returnee students, bilingual students, regular students and new friends!
(Lunch included)

帰国子女生も一般生も一緒に過ごします!(クラスはレベル分け)  対象年齢年長〜小6 20人 定員
It is rare to find thanksgiving events or culture in Japan, even in Tokyo but at Lexis we want to relive, reintroduce or
expose all kids to the fun of international culture. The event will be led by experienced American teachers with the
goal of producing fun, experiential, and educational activities in English. The goal is not simply to study English,
but rather to live it!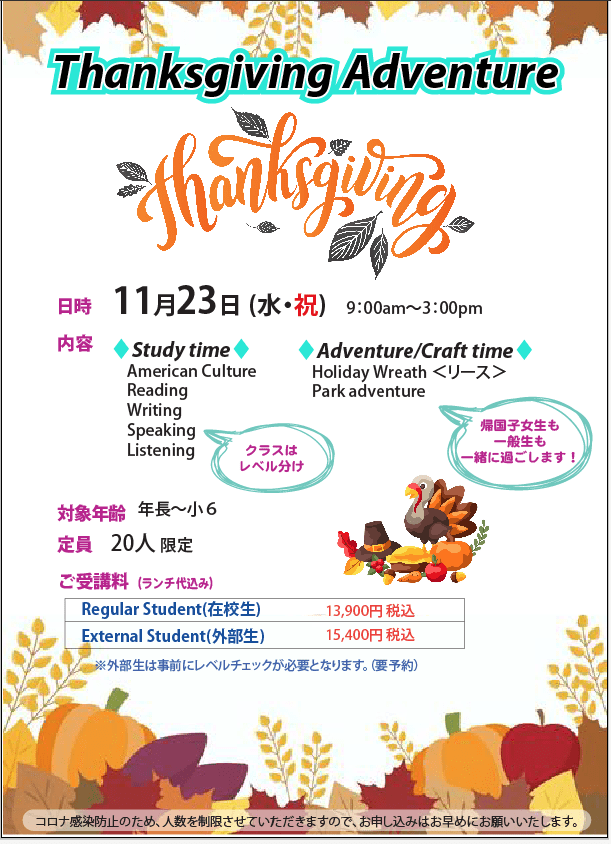 Thank you. This event has finished.
日時
11月23日 (水・祝)  9:00am〜3:00pm
内容
Study time
 American Culture
 Reading
 Writing
 Speaking
 Listening
クラスはレベル分け
Adventure/Craft time
 American Culture
 Holiday Wreath
 Park adventure
帰国子女生も一般生も一緒に過ごします!
対象年齢
年長〜小6
定員
20人 限定
<Regular Student(在校生)>13,900円 税込
<External Student(外部生)>15,400円 税込
※外部生は事前にレベルチェックが必要となります。(要予約)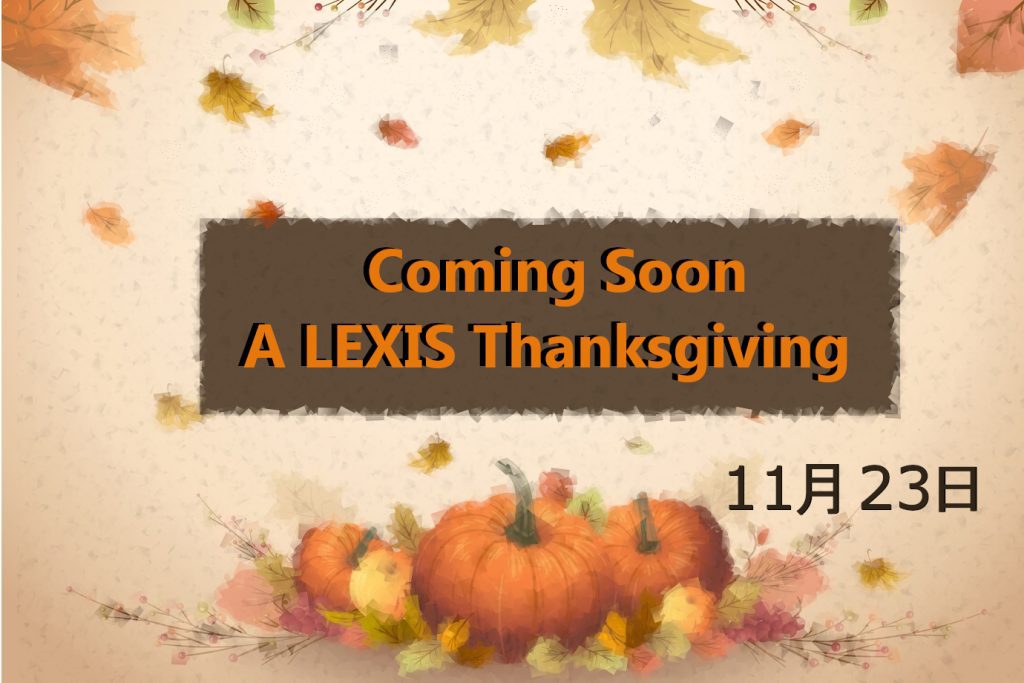 Thank you. This event has finished